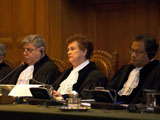 The Hague Tribunal started investigation of circumstances of war in South Ossetia in August 2008, said Nestan Kirtadze, the Labour Party Secretary for International Issues, in her interview to Versia [Georgian newspaper].
She added that investigators from the Hague would visit Georgia soon.
They "had to start investigation after report of Hedi Tagliavini's Commission."
This Commission, also called the "mission of truth", called Georgia guilty of unleashing the 5-day war.
Kirtadze cannot rule out at the international level Georgia will "be called not victim, but aggressor."
"Unfortunately, we'll have to pay much for myths and legends connected with the epoch after the "Rose Revolution," she said.
She also called reasonable establishing good-neighborly relations with Russia.
/Georgia Times/