Georgian Foreign Minister Grigol Vashadze has apologized to Iran for the extradition of an Iranian national to the United States in 2008.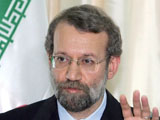 Vashadze made the apology during a meeting with Iranian Parliament Speaker Ali Larijani in Tehran on Monday.
He said the extradition of Amir-Hossein Ardebili took place at a time when Georgia was in a complex political situation.
The US accuses Ardebili of involvement in arms procurement for Tehran.
"We apologize for the act carried out by the then government of Georgia in regard to Mr. Ardebili," IRNA quoted Vashadze as saying.
During the meeting, Larijani expressed disapproval of the presence of foreign powers in the region.
"The problems and crises of the region should be revolved through regional countries, and the presence of foreign powers only complicates the situation," Larijani said.
He went on to say that the insecurity in Afghanistan and Iraq affects all other countries in the region.
Earlier in the day, Vashadze held talks with the secretary of Iran's Supreme National Security Council, Saeed Jalili.
Dring the meeting, Jalili called for a regional solution to help establish stability and security in the region.
/Press TV/