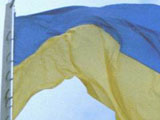 Most Georgian monitors, who arrived in Ukraine last week to monitor presidential vote, will return home today, Levan Tarkhnishvili, ex-head of Central Electoral Commission of Georgia said  over phone from Kiev.
He said this decision must ease "tension" that began upon Georgian monitors arrival in Ukraine. Moreover, most of them were not allowed to work.
Tarkhnishvili didn't say how many Georgian monitors will remain in Ukraine.
/Georgia Times/