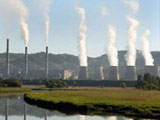 Tehran's Air Quality Control Company (AQCC) has warned that the daily air pollution level in the capital is higher than an acceptable level, Press TV reported with reference to IRIB.  
"The level of air pollution in the Iranian capital Tehran has crossed its acceptable level," IRIB quoted the AQCC Director Yousef Rashidi as saying on Monday.
"The environmental standard of harmful substances in exhaust must meet Euro-3 and Euro-4 specifications. However, Tehran norms hardly meet the Euro-2 standard," he said.
"Officials in Tehran were supposed to upgrade 20 percent of the gas stations to the level of Euro-4. Recent air quality control sampling showed the stations are far above the expected level," Rashidi noted.
The Euro 4 standard specifies a maximum of 50 parts per million of sulfur for diesel fuel, according to the United Nations Environment Program Web site.
"We can not measure the level of some polluting elements in Tehran because of limited facilities and expensive processes," said Rashidi.
"Tehran has been experiencing higher level of sulfur dioxide than India and Bangladesh," Rashidi commented.
/
Trend News
/