Iran's Ambassador to Moscow says it is unlikely for the Kremlin to give up its friendly ties with Tehran in order to establish closer relations with Washington.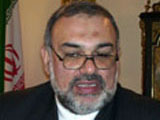 "Russia sees Iran as a regional power. So, it is not likely that Moscow will sacrifice its friendly ties with a trusty neighbor for costly short-term relations with Washington," Mahmoud-Reza Sajjady told Ria Novosti in a Saturday interview.
The envoy added that, from his point of view, the relationship between Moscow and Washington abounds with disagreements and suffers from lack of trust.
"These disagreements are not something that can be overcome in the short term. That is why the two sides can not agree on various issues," he explained.
"It was not long ago that US Republicans described a vast unified Russia as their most dangerous enemy. Although they are not currently in power, they still have enough influence in the US society to be able to impact political decision-making."
"That is why I believe the current US leadership will not be able to create a deep rift in Tehran-Moscow relations," he added.
Sajjady, however, went on to add that in some cases Iran is obliged to show a great deal of sensitivity in matters that concern cooperation between Tehran and Moscow.
He noted that at the moment, the Islamic Republic is looking to see how soon Moscow will deliver the S300 anti-aircraft defense system to Iran and what course it will take under US pressure to pass another resolution against Tehran at the Board of Governors of the International Atomic Energy Agency.
/Press TV/