Turkish PM Davutoglu was received by Serbia's President Tadic in Belgrade.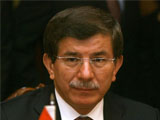 Turkish Foreign Minister Ahmet Davutoglu was received by Serbia's President Boris Tadic in Belgrade on Friday.
Davutoglu is in the Serbian capital Belgrade to attend a tripartite consultation meeting of Turkey, Bosnia-Herzegovina and Serbia.
The meeting was closed to press.
Following the meeting, officials of the Turkish foreign ministry said that Davutoglu and Tadic discussed several projects carried out between the two countries, including a highway project in Serbia, infrastructure works in Sanjak region and a possible cooperation between Turkey's flag carrier Turkish Airlines (THY) and Serbia's national air carrier JAT Airways.
The two parties have also agreed to open a "Center for Islamic Culture" in Belgrade, said foreign ministry spokesman Burak Ozugergin.
Davutoglu invited Tadic to the summit of heads of states of South-East Europe to be held in Turkey and they discussed developments in Bosnia. Tadic reaffirmed Serbia's committment to Bosnia's territorial integrity and political unity, Ozugergin said.
Later in the evening, Davutoglu will attend a dinner to be hosted by his Serbian counterpart Vuk Jeremic. Following the dinner, Davutoglu will depart from Serbia.
/World Bulletin/