U.S. President Barack Obama won the "World Etalon Politician" award of Gocha Tkeshelashvili Etalon Media research-scientific group and support of Mze TV company.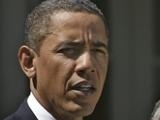 The Parliament of Georgia was the partner of the project. The awarding ceremony was held in its building.
The participants of the project were students of over 21 Georgian colleges and universities, who defined winners in nominations.
Gocha Tkeshelashvili said that the honorary golden order of Etalon will be presented to the Catholicos Patriarch Ilia II for special contribution in project development.
Orders were also presented to Speaker David Bakradze, and CEOs of companies "Tkbili Kvekana" and "Mitana".
/Georgia Times/