Turkey's Chief Negotiator for EU Talks Egemen Bagis and Energy Minister Taner Yildiz departed from Istanbul for Spain on Thursday.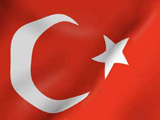 As part of the visit, Bagis will hold a series of talks on Turkey's EU membership process, while Yildiz will participate in an unofficial meeting of EU's energy ministers in Sevilla, officials said.
The meeting, which will be attended by energy and environment ministers from all over Europe, will focus on issues such as energy, climate change and technological developments, officials added.
Minister Yildiz is expected to return to Turkey on January 16.
/World Bulletin/