Iran's judiciary says it has forwarded the cases of sixteen individuals indicted in connection with the Ashura riot in Tehran to the Revolution Court.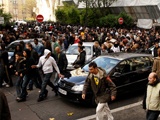 The Tehran Prosecutor's office said in a statement that one of the defendants could be charged with being "mohareb" (enemy of God) — a crime punishable by execution.
The fifteen suspects were charged with "conspiring against national security and carrying out acts against the establishment," the statement added.
On December 27, anti-government protesters in Tehran took advantage of the Ashura mourning ceremonies to chant slogans against high-ranking Iranian officials.
Police used tear gas to disperse the protesters who vandalized public property and set trashcans aflame, provoking clashes with security forces.
Seven people died during the unrest. Deputy Police Chief Ahmad-Reza Radan, said the force had not used violence against protesters, rejecting any involvement in the killings, adding that authorities were investigating the deaths.
In response to the Ashura unrest, millions of Iranians took to the streets on Wednesday Dec. 30, 2009, demanding that rioters be brought to justice.
The office said that the indictments had been based on police reports, investigations, and the explicit testimonies of the suspects. The statement did not identify the suspects or specify the dates of their trials.
/Press TV/