The Islamic Republic of Iran sets up to diversify its presence in the international gas market and expand gas interaction with neighboring countries, Director General of Iran's National Gas Export Company said.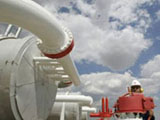 Touching upon the Iranian politics in the energy sphere, Reza Kasaizadeh said that his country is the world's second greatest country in terms of natural gas reserves.
In addition, Iran needs gas supplies from Azerbaijan to its northern provinces, he said.
At the end of 2009, the National Iranian Gas Exporting Company signed a memorandum with SOCAR on the supplies of Azerbaijani natural gas to Iran, Kasaizadeh reaffirmed.
/MOJNEWS/