On Jan. 14, Georgian monitors headed for Ukraine to monitor country's presidential elections.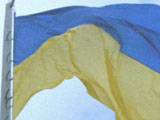 They departed from Tbilisi airport several hours late due to thick fog which impeded other flights.
Georgian monitors hope today Ukrainian Central Electoral Commission will make a decision allowing them to work at the presidential elections of Jan. 17.
Previously Ukrainian CEC opposed registration of 2,000 Georgian monitors, but bloc of Yulia Tymoshenko appealed to Kiyv city court, and the latter called the decision of CEC invalid.
Today CEC of Ukraine will hold one more sitting to consider the issue.
The meeting will be attended by Grigol Katamadze, ambassador of Georgia to Ukraine.
/Georgia Times/