Iran slams Norway for reprinting blasphemous cartoons of the Prophet Mohammad (PBUH) in the country's Aftenposten newspaper.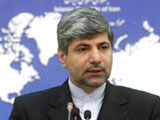 "Such acts are against the sanctity of religious values and are strongly condemned," Iran's Foreign Ministry spokesman Ramin Mehman-Parast told reporters Wednesday.
Aftenposten reprinted blasphemous caricatures drawn by Danish cartoonist Kurt Westergaard, which were first published by Jyllands-Posten in 2005.
Mehman-Parast referred to the act as being against international conventions such as the Universal Charter of Human Rights and other UN resolutions, which ban insulting religions.
"One cannot harm the religious sentiments of over one billion Muslims under the banner of freedom of speech," he said.
"Such blasphemous acts will not contribute to the establishment of world peace. They will only make the Norwegian government liable before the international community for failing to prevent provocative behaviors that are in violation of human rights."
/Press TV/