Majlis Speaker Ali Larijani said on Wednesday that the recent events which took place following the June presidential elections would damage the country's national interest and national security.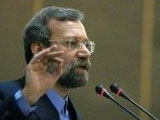 Addressing MPs during the Majlis open session this morning, he reiterated that such moves would pave the way for mischievous acts by the enemies of Islam and the Islamic Republic system.
He further condemned the terrorist bomb blast in Tehran on Tuesday during which a university professor was martyred.
Larijani underlined the need for paying due attention to Iran's security and national interest by all people.
Referring to the recent events as divine examination, he added that the Iranian nation would successfully pass through all its tests.
/IRNA/