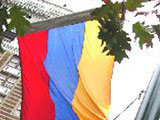 Armenia's opposition Heritage Party has issued a statement in response to decision on the Armenian-Turkish Protocols passed by Armenia's Constitutional Court, who stated that the protocols did not violate any aspect of the country's Constitution.
"The Heritage Party considers the decision made by the Constitutional Court on Armenia's assumed responsibilities in recognizing the Armenian-Turkish Protocols' correspondence with Armenia's Constitution to be an unconstitutional, unlawful, anti-state and anti-nation act, made not in the name of, but against the Republic of Armenia, its citizens and the Armenian people around the world," the statement issued by the party said.
The party says the Constitutional Court is not claiming full responsibility of contributing to dangerous developments in Armenia as a consequence of putting into effect the Armenian-Turkish Protocols.
/Tert.am/