Ukrainian President Viktor Yushchenko will not trip to Georgia to attend the energy summit to be held in Georgia.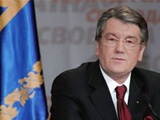 He explains it's connected with presidential elections in Ukraine.
"I must be in Ukraine and to communicate with voters," he said.
Previously Georgia's Energy Minister Alexander Khetaguri said that the energy summit which will be held in Batumi on Jan. 14 will adopt a declaration on energy supply principles for Western Europe.   
Summit in Batumi will be attended by Presidents of Poland and Azerbaijan, and also high-ranking governmental officials from Baltic countries, Romania, Bulgaria, Turkmenistan and Kazakhstan.
Khetaguri said the summit is devoted to development of southern energy corridor. Its aim is to discuss Caspian energy supplies for Western Europe countries.
Implementation of Nabucco project will also be discussed, he noted. 
/Georgia Times/