Israeli Defense Minister Ehud Barak will pay a one-day visit to Turkey on Sunday, Turkish and Israeli officials have said, a trip that could help mend frayed ties between the two regional powers.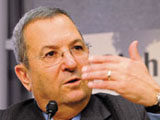 Barak's office said on Tuesday that the visit was at the invitation of Turkish President Abdullah Gül.
Asked whether he would meet Barak, Prime Minister Recep Tayyip Erdoğan briefly said on Tuesday that he will not.
Also Tuesday, Israeli media cited Israeli officials as saying that a recent crisis in ties between Israel and Turkey was designed on purpose by Foreign Minister Avigdor Lieberman, who had planned details of a meeting between Israeli Deputy Foreign Minister Danny Ayalon and Turkish Ambassador to Israel Oğuz Çelikkol, which was humiliating for the latter.
The same sources said Lieberman is now looking to "heat things up" before Barak's trip, so as to torpedo attempts to mend the tensions.
"We get the sense that Lieberman wants to heat things up before Barak's visit," a senior Foreign Ministry source told the Haaretz daily.
"All of the recent activities were part of Lieberman's political agenda."
Haaretz highlighted that the Turkish government was expected to give a warm welcome to Barak, who alongside Labor Minister Benjamin Ben-Eliezer was looking to bring the allies' relations back to stability.
Last year, NATO member Turkey barred Israel from participating in a NATO war exercise, a decision criticized by Washington.
Prime Minister Recep Tayyip Erdoğan said it was a result of public concern about Israel's military campaign in Gaza.
Since the 1990s, there has been close military cooperation between Turkey and Israel, including the use of Turkish airspace by the Israeli air force for training. The two countries share intelligence and have strong trade ties, including the sale of strategic military equipment.
/TODAY'S ZAMAN/