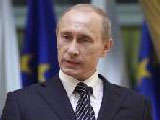 Turkey and Russia are planning to build a logistics center in Krasnodar, located 1,500 kilometers south of Moscow. Along with bilateral trade, the center will provide transportation, customs and storage services to third countries. 'Turkey is aiming to become a logistics leader in the Black Sea and Caucasus regions,' according to one official.
A logistics center in southern Russia will both contribute to growing bilateral trade between Turkey and Russia and become a base for Turkish transporters willing to be important actors in the region.  
Prime Minister Recep Tayyip Erdoğan and his Russian counterpart Vladimir Putin will discuss the joint projects in the scope of their "strategic partnership" Wednesday. Turkish exporters are looking forward to hearing more positive news from Moscow after a customs crisis was solved with Putin's visit to Ankara in August.
The two leaders are expected to take concrete steps toward the construction of a long-awaited joint logistics center in Krasnodar province on account of the inclusion of Transportation Minister Binali Yıldırım and Foreign Trade Minister Zafer Çağlayan in the visiting delegation.
Krasnodar is located 1,500 kilometers south of Moscow and is close to the Black Sea ports of Novorossiysk, Temruk, Taman, Kavkaz, Gelendzhik and Tuapse.
Turkey, which seeks to export to Russia and other countries in the Black Sea and Caucasus region more efficiently, began feasibility studies in 2008. However, the Russia-Georgia War in August 2008 halted their efforts as Turkish trucks faced difficulties crossing the border.
"Having tackled all the customs problems, we're now considering building a logistics center in southern Russia with contributions from both the public and private sector," an official from the Turkish Foreign Trade Ministry told the Hürriyet Daily News & Economic Review.
The center is expected to be a key base reaching all countries around the Black Sea in addition to Russia. "We will provide transportation, storage, collection, export and customs services to third countries. All Black Sea countries will able to reach these services," said the same official, requesting anonymity.
Russia's Deputy Prime Minister Igor Sechin agreed to the project in August when he visited Ankara in preparation for a subsequent trip by Putin.
"In order to simplify legal procedures and boost trade, we've agreed to establish a joint committee to do research on a logistics center that would ease transportation, customs and logistics," Çağlayan told reporters in a joint press conference with Sechin.
Turkish and Russian officials have continued discussing the outcomes of the feasibility reports at routine meetings since August. A road map will be determined at a high-level meeting in either January or February, official sources said.
Combined rail, ferry and motorway transportation system
"Turkey is aiming to become the logistics leader in the Black Sea and Caucasus regions," the official said. Turkey owns the biggest fleet of international transport trucks in Europe while the Russian route is important for exports to Central Asian countries.
According to the logistics center project, Russia and Turkey will set up a combined system that will effectively use rail, ferries and motorways. Costs will be remarkably reduced as cargo loaded at Russian ports will be received at Samsun and Mersin's ports through one route, as opposed to the present system by which goods are transported between Russia and Turkey via other countries.
Some 98 percent of cargo from Russia to Turkey is carried to Black Sea ports via railways. The plans call for the establishment of a non-stop ferry service that will carry railcars across the sea from Russia to Turkey with carriages being shipped to Samsun before continuing by rail to the Mediterranean port of Mersin.
Some 50 percent of the existing costs will be eliminated with the transportation system between the ports of Kavkaz and Samsun.
/Hurriyet Daily News/