All kindergartens in Armenia will close till Feb. 1 because of absence of heating, Narine Hovhannisyan, Head of Comprehensive Education Department at Armenia's Ministry of Education, said.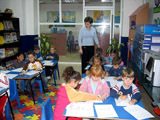 "Only 52 out of the 160 kindergartens in Armenia are supplied with heating. To ensure uniformity of working schedule, the Ministry of Education has decided to resume pre-school institutions' activity on Feb. 1," she said.
She noted that Ministry plans to open 30 new kindergartens in Armenia's regions in 2001 in addition to the 22 kindergartens established during the previous year in the frameworks of pre-school education development strategy.
/PanARMENIAN.Net/