"Yesterday's decision by the Ukrainian CEC rejecting all our lists, cause, frankly speaking, astonishment," says Grigol Katamadze, ambassador of Georgia to Ukraine.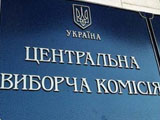 According to Katamadze, there has been no official response from Ukrainian CEC, but Tbilisi hopes to get it.
The ambassador also said the decision to send over 2,000 monitors was reasoned by a large number of polling stations in the country.
Previously Central Electoral Commission of Ukraine refused to register international monitors from Georgia.
It also declined a variant of compromise: cutting the delegation from 2,000 to 400 people.
Seven CEC members voted for registration, whereas at least 8 votes were needed.
/Georgia Times/