Central Electoral Commission of Ukraine refused to register international monitors from Georgia.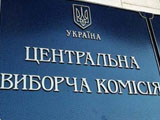 It also declined a variant of compromise: cutting the delegation from 2,000 to 400 people.
Seven CEC members voted for registration, whereas at least 8 votes were needed.
Information agency say the message about the refuse granted relief to Donetsk, which, as its Mayor had explained, was unable to receive so many monitors from Tbilisi.
Previously Georgia Times reported that documents from the Georgian embassy in Kyiv were received by the CEC. These are documents on registration of over 2000 monitors for presidential elections in Ukraine.
According to Vladimir Shapoval, CEC chairman, the applications from the Georgian embassy were filled in carelessly, they had doubles, but CEC employees corrected them.
/Georgia Times/