The first session of the Georgian government in 2010 was held in Gori on Jan. 12.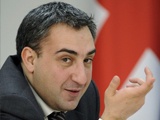 The Ministers summed up the work of their ministries and reported the action plans and projects for 2010.
Prime Minister Nika Gilauri said the government would spend 25 million GEL in the Shida Kartli Region this year.
The rehabilitation of road infrastructure, street lighting, water systems, roofs of the houses and school buildings would be also prior for the government in 2010.
Governor of the Shida Kartli Region, Lado Vardzelashvili reported the details of the projects, which will be implemented in the region this year.
/Georgian Times/