The Iranian nuclear physics scientist who has been killed in a remote-controlled bomb attack in Tehran had not been involved in any political activities, an academic figure says.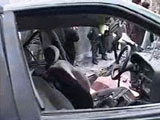 "Professor Massoud Ali-Mohammadi … was a prominent international figure, but had not been involved in any political activities," Head of the Science Complex of the University of Tehran Ali Moqari told Mehr News Agency on Tuesday.
He added that Ali-Mohammadi was a prominent professor in physics who had written several books.
Ali-Mohammadi, a lecturer at the Tehran University and a staunch supporter of the Islamic Revolution, was killed in booby-trapped motorbike blast in the Iranian capital on Tuesday.
The explosion took place near the professor's home in Qeytariyeh neighborhood, in northern Tehran.
Moqari underlined that despite police investigations, the University of Tehran would also probe into the incident.
Press TV correspondent quoted security officials as saying that the equipment and system of the bomb used in the attack had been related to a number of foreign intelligence agencies, particularly Israel's Mossad.
/Press TV/