Protesters gathered outside the Constitutional Court building today have said they will stay there until a final decision is reached by the court.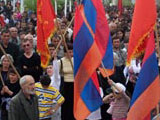 This opinion was expressed by one such protester, Armenian Revolutionary Federation (Dashnaktsutyun) MP Artsvik Manasyan.
Manasyan reassured journalists that demonstrators wouldn't disperse even in the case that the decision is announced tomorrow.
New Times party leader Aram Karapetyan, for his part, confidently, and with regret, stated that the court will not recognize the Protocols as contradicting the Constitution.
/Tert.am/