Iran's Foreign Ministry says Tehran will continue its peaceful nuclear program, rejecting the possibility that the country may be harmed by further sanctions.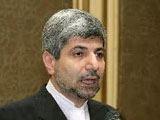 Addressing reporters during his weekly press conference on Tuesday, Foreign Ministry Spokesman Ramin Mehman-Parast said Iran has always pursued its nuclear program in full cooperation with the International Atomic Energy Agency (IAEA).
Mehman-Parast added that Iran's nuclear energy plan should not be politicized, asserting that imposing new sanctions against Iran would not be a "constructive" approach.
"If they follow such an approach and try to deprive themselves of Iran's potential they will harm themselves and nobody else… This approach is not an affective path. It is not the right thing to do either," he said.
"Instead of recognizing the rights of committed nations who have had full cooperation with the IAEA and instead of meeting their requirements, they would be politicizing the issue," he added.
Mehman-Parast said Tehran welcomes talks on its nuclear package, and is willing to accept a staged nuclear fuel swap, if its demands are met.
"Iran is ready to exchange its 3.5 percent enriched fuel with uranium that had been processed to a level of 19.75 percent, if the other side agrees to a staged transfer," he explained.
/Press TV/