The five permanent members of the UN Security Council plus Germany will meet later this week to discuss Iran's nuclear program.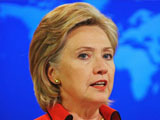 The six countries, which are known as the P5+1 group, will meet in New York to hold discussions on whether to impose sanctions on Iran over its nuclear program.
"The P5+1 will reconvene in New York at the end of this week, and they will be exploring the kind and degree of sanctions that we should be pursuing," US Secretary of State Hillary Clinton told reporters on her way to Hawaii on Monday.
The comments come one day after the commander of the US Central Command, General David Petraeus, made flippant remarks about contingency plans to bomb Iran's nuclear facilities.
The United States, Israel and some of their allies have accused Iran of pursuing military objectives in its nuclear program.
/Press TV/