Erdogan said he would honour the words he uttered after the panel discussion on Gaza.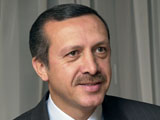 Turkish Premier Recep Tayyip Erdogan said Monday that he would stand by his word and not attend this year's World Economic Forum (WEF) Summit in Davos, following last summit's quarrel with Israeli President Simon Peres over the hundreds of civilian killings in Gaza.
Erdogan told a press conference with Lebanese Premier Sa'ad al-Din al-Hariri, that he would honour the words he uttered after the panel discussion on Gaza.
"Once I give my word on something. That's done. I said 'I will never come to Davos again,' so I will never go to Davos again," said Erdogan.
Premier Erdogan stormed out of the panel discussion on Gaza in WEF Davos Summit in 2009, with UN Secretary-General Ban Ki-moon, and Arab League Secretary-General Amr Moussa as other panelists.
Angered at Peres's tone and rising voice, in defense of Israel's military attack in Gaza, Erdogan cried "One Minute, One Minute!" asking the Washington Post Columnist David Ignatiuus, the moderator, who gave 25 minutes of talk time to Peres, to give him some extra talk time.
Ignatius gave Erdogan a minute to respond, and when Erdogan went over Ignatius repeatedly cut the Turkish Prime Minister off, telling him and the audience that they were out of time and that they had to get to a dinner.
Frustrated with the moderator's unfair distribution of talk time between participants, Erdogan told Peres, "When it comes to killing, you know well how to kill children" during which Ignatius put his arm on Erdogan's shoulder and kept saying that his time was up.
Erdogan stormed out wowing never to come to Davos again.
Erdogan's cry for extra time "One minute!" became a motto, synonymous with the incident.
After the incident Erdogan was treated like a hero not only in Turkey, but in Muslim countries Erdogan visited, even months after the incident.
/World Bulletin/