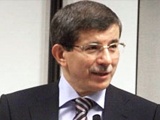 As part of the "zero problems with neighbors policy," public diplomacy and surface diplomacy, Foreign Minister Ahmet Davutoğlu, who is reshaping Turkey's foreign policy, has announced a new project that will involve both the Foreign Ministry and the Interior Ministry.
Noting that he has spoken with Interior Minister Beşir Atalay on the matter, Davutoğlu said: "We envision deploying diplomats who are assigned to neighboring countries to work with the governors offices in border provinces. For example, if a diplomat is going to be assigned to Aleppo, he will work in Hatay for 15 days first. Some district governors who will be assigned to border provinces will work at border consulates before they take office.
In this way we aim to overcome some of the walls between domestic policy and foreign policy. This is a piece of public diplomacy. We are going to work to enable these worlds to intermix as much as possible."
Davutoğlu organized a press conference with diplomacy correspondents following the Second Ambassadors Evaluation Conference, held in Mardin over the weekend. Noting that the evaluation meeting in Mardin was the first meeting outside of Ankara for ministerial senior administration and many diplomats, Davutoğlu noted that there would be more meetings organized in provinces other than Ankara.
"Due to our jobs, many Turkish ambassadors and diplomats abroad, including myself, cannot visit Anatolia too much. From now on, we are going to pay more attention to our people and listen to their foreign policy perceptions," he said.
Davutoğlu explained that he met with Atalay to discuss ways to foster integration between the Ministry of the Interior and the Foreign Ministry.
He noted that in order to improve the two ministries' success in their fields, a temporary bureaucrat exchange program was being discussed.
Davutoğlu said he envisioned sending diplomats who will be assigned to the border provinces of neighboring countries such as Mosul, Aleppo and Plovdiv to work at the governor's office of the neighboring border province before taking office to enhance their understanding of relations between Turkey and neighboring countries at a local level.
Noting that these projects are a piece of public diplomacy, the foreign minister said they want Turkish diplomats to be involved and active in every area. "There will be no more borders or walls. Of course this doesn't mean the [geographic] border between the two countries will be removed. What we mean is that we are people that have ties that transcend the borders," he said.
/TODAY'S ZAMAN/