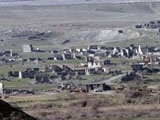 An Armenian citizen has crossed the Armenian-Azerbaijani border breaking through barriers in Azerbaijan's Nakhchivan region together with his family, Armenian Defense Ministry said.
The incident took place in the Yeraskh-Nakhchivan area on Jan. 10.
The Armenian citizen Yeghishe Petrosovich Gevorgyan, 51, previously convicted for robbery and theft for eight times, crossed the border to Azerbaijan's Nakhchivan region together with his wife and three minor children (7, 6 and 3 years) in a ErAZ car not obeying the orders of a warning.
Armenian border guards did not open fire due to three minor children on board of the car.
Relevant international humanitarian organizations have been informed about the incident. A criminal case has been launched.
The Azerbaijani State Commission on Hostages, POWs and Missing People verifies accuracy of the Armenian media outlets' information with reference to the Armenian Defense Ministry concerning Armenian family crossing the border from Armenia to Azerbaijan.
/Armenia Today,
Trend News
/