Iran has called on the Islamic Development Bank (IDB) to increase its financial support for joint projects in Muslim countries.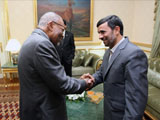 In a meeting with IDB chief Ahmad Mohammed Ali in Ashgabat, Iranian President Mahmoud Ahmadinejad hailed the bank for its assistance in the implementation of the Turkmenistan-Iran-Kazakhstan joint railway.
IDB has approved $371 million for Turkmenistan to participate in establishing a railway project.
The 936 kilometers railway aims to enhance economic and trade cooperation between Kazakhstan, Turkmenistan and Iran and the Central Asia region in general.
"Islamic bank's support of joint projects of the Muslim states should be increased further," Ahmadinejad said.
Ali, for his part, hailed Ahmadinejad's resolute stances regarding international issues.
/Press TV/