Iran's domestic car producers manufactured 1,008,319 cars of different types in the first nine months of the current Iranian calendar year (started on March 21, 2009).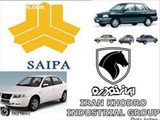 The figure shows 9 percent growth over the same period last year.
During the period, 845,427 passenger cars were produced, showing 12 percent growth over the last year.
In the last month (Nov 22-Dec 22, 2009) some 137,625 cars of different types were produced, a 15 percent increase compared to the previous year's figure.
In the 30-day period, 112,709 passenger cars were produced.
/MOJNEWS/