Georgia opposition parties have sent their appeal to the UN Secretary General to New York.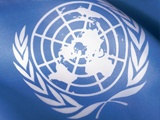 The politicians ask for conducting elections in Georgia under the auspices of the organization.
Nineteen opposition parties support the Georgian Labour Party's initiative. They claim there is no proper political and electoral environment for conducting democratic and free elections in Georgia.
Although representatives of the Strong Georgia political party, as well as the National Democratic Party and the We Ourselves Movement think otherwise.
They say the UN is not able to provide such kind of monitoring of the elections that is necessary for the country at this stage.
/Georgia Times/