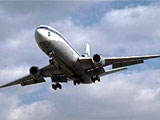 Georgian United Transport Administration and Air company Airzena have received a confirmation letter from the Russian transport ministry, which allows the company to make several charter flights Moscow-Tbilisi on January 8, 9, 10, and Tbilisi-St. Petersburg on January 9 and 10.
Airzena Air Company staff hopes to make additional charter flights on January 16,20 and 26.
The United Transport Administration of Georgia fails to specify if Russian side will resume regular flights with Georgia, which were suspended during the August war in 2008.
/Georgia Times/