President Mahmoud Ahmadinejad of Iran was officially welcomed by Turkmen President Kurbanguly Berdymukhamedov here on Tuesday on the second leg of his Central-Asian tour.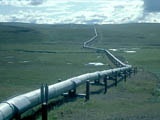 The Iranian president arrived in Turkmenistan's capital from Tajiksitan on Tuesday.
The two presidents began their private talks immediately after the welcoming ceremony which was held in the premises of Turkmenistan's cabinet.
The Iranian and Turkmen officials will start their talks at the end of Presidents Ahmadinejad-Berdymukhamedov's talks.
While in Ashkhabad, President Ahmadinejad is to sign a number of documents on Iran-Turkmenistan cooperation, meet with Iranian nationals residing in that country and attend an inaugural ceremony for the second phase of Iran-Turkmenistan gas pipeline.
The 182-km pipeline is to transfer natural gas from Turkmenistan to Iran raising Tehran's gas imports from Ashkhabad to 14 billion cubic meters.
President Ahmadinejad has started his three-day tour to the two Central Asian states of Tajikistan and Turkmenistan since Monday.
/IRNA/