US Secretary of State Hillary Clinton says the United States has already begun discussions with its partners about imposing sanctions on Iran.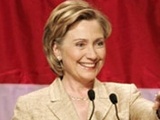 The move is being made to pressure the Iranian government to halt its uranium enrichment activities, Clinton said in Washington on Monday.
"We have already begun discussions with our partners and with like-minded nations about pressure and sanctions," Clinton said at a press conference with Qatari Prime Minister Sheikh Hamad bin Jassim al-Thani.
She stated that the White House will continue its dual track approach of seeking to halt Iran's uranium enrichment program through negotiations while also considering sanctions.
The US secretary of state also said Washington is willing to keep the door open to dialogue.
Iran says it is ready to swap its low-enriched uranium for 20-percent enriched uranium on its Persian Gulf island Kish or in Turkey, Brazil, or Japan.
Tehran says it will consider enriching the fuel for the Tehran Research Reactor in Iran if the parties involved in the fuel supply talks fail to provide it within a month.
/Press TV/