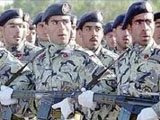 Iran will hold a "large-scale military exercise" next month in order to prepare its forces to repel an offensive by the nation's enemies, government-funded Press TV reported, citing a top military official.
Brig. Gen. Ahmad-Reza Pourdastan, commander of Iran's ground forces, told a meeting of servicemen in Tehran Saturday the joint drill will be conducted by ground forces and some units of the Islamic Revolution Guards Corps and aimed at improving "the force's defensive capabilities," Press TV said. The exercise will also "boost the region's security," he said.
"Both the United States and its close ally Israel have refused to rule out the possibility of a military attack" against Iran, Press TV reported. "Iran has not initiated a war with any country for more than a century."
The report did not provide specifics on when the military exercise would take place.
U.S. officials have said that time is running out for Iran to address international concerns regarding its nuclear program. And Israel has called Iran's nuclear program the major threat facing its nation.
Iran has said its uranium enrichment program is aimed at producing fuel for civilian power plants. But the United States and other countries have accused Tehran of working toward nuclear weapons.
Iran says it has a right to produce nuclear fuel under the 1968 Non-Proliferation Treaty, which bars member states from pursuing nuclear weapons and requires international inspectors to have access to nuclear facilities.
/CNN/