The private consumption tax hike implemented by the government on tobacco has been reflected in cigarette prices.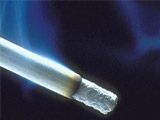 Philip Morris and British American Tobacco significantly increased the prices of the cigarettes they produce.
Philip Morris SA, the international tobacco company's joint venture with Sabancı Holding in Turkey, announced Monday it is raising the price of its tobacco products by at least 15 percent effective immediately.
 "With the Cabinet's decree published in the Official Gazette on Dec. 31, 2009, the tax rate on tobacco has been increased by more than 30 percent. This situation, which has a direct impact on our production cost, forced us to modify the cost of our products. Therefore, the retail price of our products produced in the İzmir Torbalı facilities has been increased by at least 15 percent starting Jan. 4, 2010," the company said in a statement. The price hike brings the price of Marlboros to 7 Turkish Liras from 5 liras. The price of Parliament Reserves climbed to 7.50 liras from 6.50 liras.
British American Tobacco Turkey also increased the price of its products. As of Monday, a pack of Samsuns has a price tag of 4.20 liras, while Kents costs 7.00 liras. Japan Tobacco, the third leading company in the sector, is also expected to increase the price of its products.
/Hurriyet Daily News/