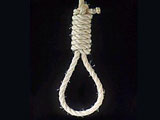 The head of heinous crimes department of Tehran General Prosecutor's Office Fakhraddin Jafarzadeh said that three prisons were executed at Varamin city prison.  
Jafarzadeh said that the executed prisons are accused of encroaching upon 12 women and killing women, Iranian Fars news agency reported.
According to information provided by Amnesty International, after China, Iran ranks the second for the number of executions.
/Trend News/