Iranian cultural heritage experts are planning to restore the statue of the Sassanid king Shapur I in the southern Fars Province.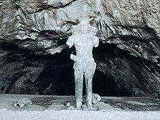 The restoration project will start soon after Iran's Cultural Heritage, Tourism and Handicrafts Organization provides the necessary funding.
Located in the cave of Shapur, the seven-meter-tall statue of the second Sassanid King was made of a stalagmite about 1,800 years ago.
The sculpture was pulled down after the Sassanid dynasty collapsed about 1,400 years ago and part of one of its legs was broken.
Parts of his arms were also smashed about 70 years ago as a result of an earthquake.
A team of Iranian experts did some restorations in 1957, raising it again on iron and cement feet.
Although their work partially ruined the artistic integrity of the artifact, it could prevent further damages.
The new restoration plan will be a joint project of the cultural heritage office of Fars Province and Pasargadae Research Center, Tehran Times reported.
/Press TV/