Turkish inflation accelerated to a 10-month high in December, supporting the central bank's decision to end a yearlong series of interest rate cuts.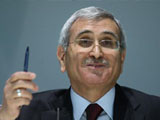 The annual consumer price inflation rate rose to 6.5 percent in December from 5.5 percent a month earlier, the Turkish Statistical Institute, or TurkStat, in Ankara said on its Web site on Monday.
Prices were expected to rise 6.2 percent, according to the median estimate of six economists surveyed by Bloomberg. In the month, prices rose 0.5 percent.
The central bank says inflation will probably accelerate in the first half of 2010 because of comparisons with the year-earlier period, when the initial impact of the global crisis pushed prices down. The bank kept its benchmark rate on hold at a record low of 6.5 percent last month, ending a sequence of 13 consecutive cuts, and said it expects to keep rates "at low levels for a long period" as domestic demand remains weak.
"There's no need to worry about rate hikes in the short term," even if the inflation rate rises, Tera Brokers in Istanbul said Monday in an e-mailed report. The bank has "already warned of a 'temporary' increase in annual inflation."
Central bank Gov. Durmuş Yılmaz is targeting 6.5 percent inflation in 2010, down from this year's target of 7.5 percent. The bank next meets to decide rates on Jan. 14.
Turkey's inflation rate fell by about half in the first five months of 2009, as the global crisis curbed demand and reduced energy prices. Gross domestic product probably shrank 6.5 percent last year, according to International Monetary Fund estimates. That would be the deepest decline since 1945.
The cost of goods leaving Turkish factories and mines rose 5.9 percent in the 12 months through 2009, up from 1.5 percent the previous month, the statistics agency said Monday. Producer prices rose 0.7 percent in the month.
/Huriyyet Daily News/