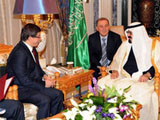 Turkish Foreign Minister Ahmet Davutoglu assessed his talks in Saudi Arabia, saying Saudi Arabia, the largest country in the Gulf and the Arabian Peninsula, was one of the most important countries for Turkey's relations with Arab countries in the world.
Davutoglu said relations between Turkey and Saudi Arabia had been growing rapidly in recent years. Turkish President Abdullah Gul and King Abdullah paid visits to each other twice in a year, he recalled, adding that Turkish Prime Minister Recep Tayyip Erdogan would visit Saudi Arabia soon.
Davutoglu said that trade volume between the two countries reached 5.5 billion USD and that Saudi Arabia was set to make giant investments worth around 600 billion USD in the coming years. He said Turkey was working hard for Turkish firms to get a big slice in these investments.
Davutoglu also said that his talks with Saudi Arabian officials focused on developments in Palestine, Gaza, Lebanon, Iraq, Afghanistan, Yemen, the Turkish Republic of Northern Cyprus, Bosnia and Herzegovina and the Balkans, as well as Islamophobia in the West.
"We talked about the cultural tension caused by the minaret ban in Switzerland which concerns all Muslim people in the world. We reviewed how we can fight Islamophobia together," Davutoglu said.
"And finally, we discussed how we can react to global financial crisis as two members of G20 countries," he added.
Diplomats said Davutoglu explained Turkey's efforts regarding Iran's nuclear program and informed King Abdullah on Turkey's relations with Gulf countries.
King Abdullah said Turkey was a valuable country for Gulf countries and had a strong position in Saudi Arabia, diplomats said, adding that Turkey and Saudi Arabia had been working on a defense agreement.
/World Bulletin/