Armenia's geopolitical role increased due to initiative foreign policy in 2009, Turkish studies expert Ruben Safrastyan said.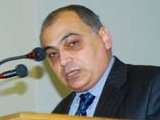 The expert considerss the fact that Armenia managed to deepen strategic partnership with Russia and simultaneously retain friendly relations with Georgia and intensify the process of European integration an achievement.
According to him, Armenia's foreign policy entered a new risky phase, which is however justified.
"Yerevan takes such a risk to empower new geopolitical possibilities to Armenia," he said.
Forecasting the coming year developments, Safrastyan underlined that no factual breakthrough should be expected in Karabakh peace process.
"The conflict has not reached real solution phase," the expert said.
As to Armenia-Turkey dialogue, Safrastyan reckons that it will continue in 2010. The momentum will be registered in ratification of the Protocols, as both Yerevan and Ankara are interested in it.
/News.am/