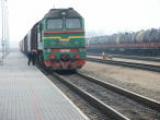 Two passenger trains collided in Bilecik in northwest Turkey on Sunday, killing one driver and injuring three other train personnel, CNN Turk reported.
The accident occurred when the trains were travelling from Istanbul to Eskisehir, CNN Turk reported.
Emergency teams were working to release passengers from the trains, state-run Anatolian news agency reported.
NTV said the accident occurred between the stations of Vezirhan and Bayirkoy, Reuters reported.