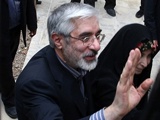 The nephew of Iran's opposition leader Mir Hossein Mousavi Ali Habibi was buried today.
This morning relatives buried Ali Habibi under state supervision, the Green Movement's Web site reported.
Ali Habibi was not killed during the riots, the Iranian police reported.
A man in a passing vehicle shot him on the road far from the clashes.
Opposition supporters and police clashed on Ashura Day Dec. 27 in Tehran.
According to international news agencies, the riots resulted in the deaths of 15 people. Police arrested 550 people. According to the official information, the clashes killed eight people, including one woman, and 300 people arrested.
/
Trend News
/