In 2009, Armenia's Ministry of Diaspora had 1300 visitors, with 1089 being Diaspora representatives, according to Diaspora Minister Hanush Hakobyan.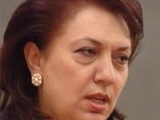 Hundreds of people have moved to Armenia over the past year, she told Tuesday a news conference.
"Initially there were 1,100 Iranian-Armenians who established permanent residence in Armenia. Now their number has decreased to 734, as many of them preferred to reside in European counties and United States. In 2010, the Ministry will elaborate a concept on integrating Iranian-Armenians to the armenian society," the minister said.
According to her, 300 Armenians returned to their homeland in the frameworks of "Ari Tun" ("Return Home") project launched by the ministry.
"The year 2009 was also productive in terms of opening one day Armenian schools in Russia, Tajikistan, Turkmenistan, Moldova, Kyrgyzstan, France, Belgium, Macedonia, Estonia, United States, Argentina and Ireland. Activities in that direction continue," Ms. Hakobyan said.
/PanARMENIAN.Net/