Tbilisi City Court has chosen a measure of two-month detention for another man participating in explosion of Glory Memorial in Kutaisi - Chief of the mobile station "Georvzrivprom" Elguja Gadabadze.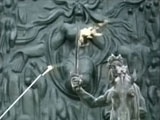 Gadabadze was accused of committing a crime under article 240 of the Criminal Code of Georgia, according to the press office of the court.
Together with him, the head of Tbilisi mobile station "Georvzrivprom" Tengiz Darakhvelidze was arrested. The court has not yet considered his case.
Glory Memorial in Kutaisi was blown up on Dec. 19. The blast killed a young woman and her eight-year old daughter. Another victim was hospitalized.
/Trend News/