No governmental talks on resumption of air transport between Russia and Georgia are being held, Georgian Deputy Foreign Minister Nino Kalandadze said.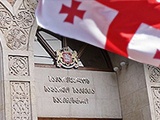 She said Airzena Georgian Airlines' appeal to Russian Ministry of Transport for Tbilisi-Moscow charter and regular flights' resumption does not mean anything.
"These are talks of a private company and have nothing to do with Georgian authorities," Kalandadze noted.
Kalandadze said that Georgian leadership "will be glad" and "will welcome" the aerial service restoration between the two states.
/News.am/