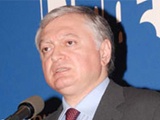 "If Turkey wants the Nagorno-Karabakh conflict to be settled, it should not interfere in this process", Amenian Foreign Minister Edward Nalbandyan said at a meeting with a group of Turkish journalists.
He said Turkey's interference in Nagorno-Karabakh issue does not contribute to resolution process, but impedes it.
"The world community including Armenia say that there is no link between Nagorno-Karabakh conflict and Turkey-Armenia rapprochement. The OSCE Minsk Group co-chairs have stated on many occasions that these are two different processes with no links. Linking them threatens both processes".
Nalbandyan also noted that Ankara's statements that Armenia must demonstrate good will in settlement process of the conflict were groundless.
"If there hadn't been such will, so many meetings between Azerbaijani and Armenian presidents wouldn't have been held," the minister noted.
/
APA
/