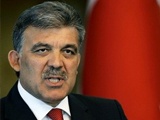 Turkish President Abdullah Gül met with his Israeli counterpart, Shimon Peres, on the sidelines of the climate change summit in Copenhagen, the Danish capital, Anatolia news agency reported on Friday.
The meeting came as Turkish-Israeli relations took a downturn after the Ankara government's harsh criticism over Israel's deadly military operations in the Gaza Strip. Anatolia news agency said the Israeli side requested the meeting.
In another development to mend ties between the two allies, Israeli Defense Minister Ehud Barak said Thursday he had been invited for talks in Turkey.
"Today [Thursday] I met the Turkish ambassador, who delivered an invitation to me to travel to Turkey," Barak, who is also head of the center-left opposition Labor party, said at a political meeting in Tel Aviv.
"The question of relations [with Ankara] is of utmost importance given the ups and downs our relations have had this year," Barak said.
Barak said he hoped the meeting between Gül and Peres might succeed in "putting bilateral relations back on track," underscoring the "strategic, economic and historic role" Turkey played in the Middle East.
In late November, Turkey and Israel pledged to improve ties as an Israeli minister held talks in Ankara, the first since Israel's war in the Gaza Strip soured relations between the two regional allies.
/Hurriyetdailynews/