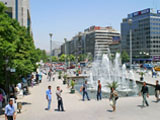 Turkey's Foreign Ministry is following "closely and very carefully" the developments around an intended referendum in Bulgaria over 10-minute news transmissions in Turkish on national TV, said the ministry in a statement Wednesday.
The statement came two days after Bulgarian Prime Minister Boyko Borisov declared himself in favor of the motion of his partners from the ultra-nationalist party National Union Attack, or Ataka, to hold a referendum over the daily news emissions in Turkish on the BNT 1 channel.
The statement said: "We expect the Bulgarian government to show the necessary efforts to resolve the issue through dialogue within the framework of pluralist democratic principles, and fundamental rights and freedoms."
The Ataka has been campaigning to ban the 10-year-old television newscast on the Bulgarian National Television, or BNT, network.
Ataka leader Volen Siderov had met with Borisov on Tuesday and asked the prime minister to support his party for the Bulgarian parliament to make a referendum decision. Following the meeting, Borisov said he viewed a referendum on the subject warmly, adding that the best would be for the public to decide.
The Turkish-language newscasts have previously been criticized by other Bulgarian citizens, such as the leader of the nationalist Party of Bulgarian Men Rosen Markov. On Nov. 10, Markov had set himself on fire in front of the BNT to protest the Turkish-language newscasts.
During one week in August 2009, Markov had collected nearly 20,000 signatures in the Bulgarian city of Varna from people opposing the broadcasts.
The 10-minute Turkish-language news broadcast was introduced by the government of Prime Minister Ivan Kostov in the late 1990s. It usually follows the Bulgarian-language news at 4 p.m. every weekday afternoon.
The broadcast is an act of courtesy to the Turkish minority in Bulgaria, but has been violently opposed over the years by Bulgarian nationalists, many of whom even claim the Bulgarian Turks do not understand the literary Turkish language spoken on air.
Ataka is an ally of Borisov's party Citizens for European Development of Bulgaria, or GERB. In the 240-seat Bulgarian Parliament, GERB has 116 MPs, whereas Ataka has 21.
/Huriyyet Daily News/