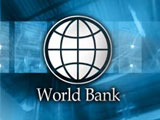 Undiversified economy based on two sectors, construction and industry, is a high-risk economy, and the international economic crisis has proved this, Aristomene Varoudakis, Head of the WB office in Yerevan, told media.
He noted that future of Armenia's economy does not depend on construction.
The international economic crisis showed that the Armenian economy was unable to "devour so much cement," Varoudakis said, alluding to the fact that capital construction constitutes a lion's share in the Armenian economy.
In this context, he stressed once more the need for economic diversification.
Varoudakis said that the year 2009 has been a most difficult one for the Armenian economy, but the peak of the crisis is behind.
He forecasts a GDP decrease of 16-17 per cent, and an inflation rate of 5.5 percent by the end of this year.
/News.am/